UNIVERSITY NEWS
CWRU celebrates Lunar New Year
Case Western Reserve University welcomed the Year of the Rooster with food, fun and fireworks. The holiday is tied to the lunar-solar calendar and was originally observed as a time to honor household and heavenly deities and ancestors. It is one of the most important social and economic holidays for billions of people around the world.
RESEARCH NEWS
Medical historian explores controversial 
electroconvulsive therapy
Jonathan Sadowsky, Theodore J. Castele Professor and associate professor in the Department of History, discusses his new book, Electroconvulsive Therapy in America, and why this treatment has been so controversial. Electroconvulsive therapy (ECT), often known as shock treatment, is a stigmatized treatment that many critics have portrayed as a form of medical abuse. Yet many psychiatrists and patients consider it to be a safe and effective treatment for severe depression and bipolar disorder.Read more.
STUDENT SPOTLIGHT
Bradley Odhner
Bradley Odhner is a Physics and Classics double major from New Hampshire, set to graduate in 2018. Through CWRU, he's been able to study abroad twice: once in Greece and once in Italy. Bradley is a programmer at WRUW and was president of IMPROVment and treasurer of the Physics and Astronomy Club. Read more.
COLLEGE

 NEWS
SAGES Fellow Brad Ricca uncovers the mystery of the real-life Mrs. Sherlock Holmes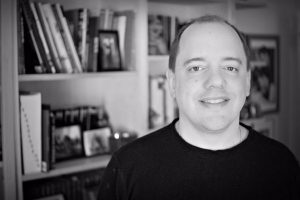 Brad Ricca, a SAGES Fellow and lecturer in the Department of English, stumbled across a mention of Grace Humiston, also known as Mrs. Sherlock Holmes, in a 1917 newspaper article. Humiston solved one of the biggest missing-persons cases of the early 1900s and antagonized men at the highest levels of power—all during a time when women couldn't vote. Ricca unearthed her story for his new book, Mrs. Sherlock Holmes.
Read more.
UNIVERSITY HISTORY
Frederick Douglass' 1854 commencement address displays tradition of activism at university
In 1854, Frederick Douglass presented thecommencement address at Western Reserve College. He spoke for two hours to an audience of about 3,000. The tradition of civil rights activism has been continued by the Social Justice Institute and its director, Rhonda Y. Williams, a professor in the Department of History. Read more.
DEVELOPMENT UPDATE
Donor showcase
We have so many amazing donors with compelling stories. To read about what inspires our donors to give back to the college, visit our newly launched Donor Stories webpage.