COLLEGE NEWS
PRIME launches at CWRU 
CWRU has launched PRIME (the Post-baccalaureate Readiness Instruction for bioMedical Education Program) for pre-med students looking to bolster their candidacy for medical school. PRIME, a joint initiative of the School of Medicine and the College of Arts and Sciences, can be completed in one or two years, depending on the individual student's needs. It is geared toward students who have not yet fulfilled all of their pre-med requirements and students who need to improve their undergraduate GPA and their foundation in key pre-med content.
Read more.
RESEARCH NEWS
New chemical solution shrinks digital data storage
Emily Pentzer, assistant professor in the Department of Chemistry, worked with graduate students in her research group to find a space-saving way to store digital data. In a recent paper, the CWRU chemists demonstrated that commonly used polymer films containing two dyes can optically store data in a quaternary (four-symbol) code, potentially requiring about half as much space as current systems. Read more.
FACULTY NEWS
The Dharma of Dollars
Deepak Sarma, a professor in the Department of Religious Studies and a specialist in Indian religions and philosophy, discusses "the connection, imagined or otherwise, between money/material accumulations, Hinduism and Hindu practices" in the online journal The Common Reader. Read more.
STAFF NEWS
Kori Kosek receives President's Award for Distinguished Service
Kori Kosek (pictured on the right), department administrator for the Department of Psychological Sciences, was one of three recipients of the President's Award for Distinguished Service this spring. The award is presented annually to three non-faculty staff members whose contributions have had a transformational impact on colleagues, students or visitors. Read more.
STUDENT SPOTLIGHT
Cameron Macaskill
Cameron Macaskill graduated in May 2017 with three majors: English, international studies and political science. With support from a variety of university programs and offices, she has worked and studied in Bosnia-Herzegovina, Botswana and South Africa. After completing intensive language study in France this summer, Macaskill will design and facilitate a youth poetry camp in Cape Town in collaboration with two local poetry organizations. Read more.
COLLEGE NEWS
Homecoming registration is live!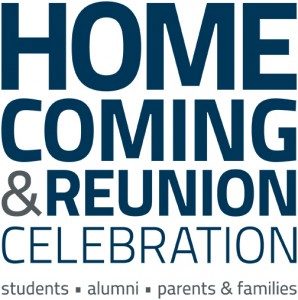 Homecoming and Reunion Weekend is October 5–8—less than three months away! All graduates are welcome at this festive gathering of alumni, students and family members. Alumni whose graduation years end in 2 or 7 are encouraged to join their classmates for a special reunion event on the evening of October 7. Take a look at the complete schedule of college events and be the first among your friends to register!
IN THE NEWS
Media Mentions
Greater Good Magazine
Amy Przeworski, associate professor in the Department of Psychological Sciences, and Jessica D. Nasser (GRS '16) published a study assessing how effectively two different practices—mindfulness and "present-moment joy"—help worriers. Read more.
Cleveland 19 News
Peter Whiting, professor in the Department of Earth, Environmental and Planetary Sciences and associate dean in the College of Arts and Sciences, discusses the negative impact of climate change on water quality in the Cleveland region. Read more.
Newsworks
Henry Adams, the Ruth Coulter Heede Professor of Art History, comments on artist Andrew Wyeth on the occasion of a major exhibition at the Brandywine River Museum in Chadds Ford, Penn. Read more.