UNIVERSITY NEW
Military ethics degree program explores complexities of war
The MA program in Military Ethics, the first of its kind in the nation, will accept its inaugural cohort this fall. As The Plain Dealer reported, "the program will explore the history and current state of military ethics and international law, and the impact of modern military technology on the type of moral and ethical decisions that have to be made in war." The newspaper interviewed program director Shannon French earlier this month. Read more.
UNIVERSITY NEWS
The College celebrates 2017 Fulbright and Goldwater Scholars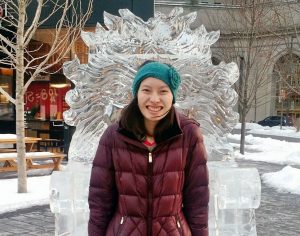 CWRU senior nutrition major Ericka Young has been named a Fulbright Scholar. Beginning in September, she will spend 10 months in the Czech Republic, serving as an assistant teacher in an English class at a secondary school. 
Junior Benjamin Kuznets-Speck, a mathematics and physics major, is one of 240 students across the country to be named a 2017 Goldwater Scholar. This award is regarded as the nation's most prestigious undergraduate scholarship in the natural sciences, mathematics and engineering.
FACULTY NEWS
Ted Steinberg receives Faculty Distinguished Research Award
Ted Steinberg, the Adeline Barry Davee Distinguished Professor of History, is one of five CWRU faculty members to receive a 2017 Faculty Distinguished Research Award. Steinberg's work on the intersection of environmental, social and legal history is highly regarded and has garnered two Pulitzer Prize nominations. Read more.
STUDENT SPOTLIGHT
Diane Bernardoni
Diane Bernardoni is a graduating senior with majors in physical anthropology, evolutionary biology and mathematics, as well as a minor in art studio. At CWRU, Bernardoni says, "I found my favorite research areas: human evolution and paleoanthropology. My greatest aspiration is to bring some elements of math and art to the field of paleoanthropology." Read more.
COLLEGE NEWS
2017 Homecoming and Reunion
Save the Date for Homecoming and Reunion Weekend, October 5–8, 2017! All alumni of the College of Arts and Sciences and our predecessor schools, as well as their families, are invited to return to campus this fall, with special recognition for alumni whose graduation years end in 2 or 7 and to our 2017 Alumni Award Winners. Read more.
IN THE NEWS
Media Mentions
The Academic Minute
John Broich, associate history professor, discusses the recent return of George Orwell's 1984 to the bestseller list. Read more.
The Conversation
Henry Adams, the Ruth Coulter Heede Professor of Art History, talks about how art can spur mathematical discovery. Read more.
ideastream
Rekha Srinivasan, senior instructor in the Department of Chemistry, tells us about the healing properties of spices. Tune in.