Nick Maurer '17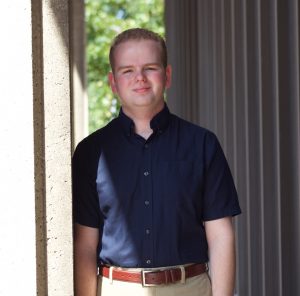 Where are you from?
Solon, Ohio
What are your majors?
Biology and Master of Public Health (MPH)
What are your minors?
Chemistry and Business Management
Why did you choose to study these subjects?
I have long been fascinated by human physiology, how the body functions at a molecular and systems level. A bachelor of arts in biology allowed me to explore these interests while leaving flexibility for other pursuits such as my MPH. I chose my masters out of a desire to explore the intersections between healthcare, business, and the communities which medicine serves. Both degrees will hopefully prepare me for a successful and impactful career as a physician.
What is your favorite class/faculty member, and why?
My favorite course so far is cell biology (BIOL 325) with Dr. Burden-Gulley. I found the material to be absorbing; it also served as excellent preparation for the MCAT. It really helped me to appreciate the complex, dynamic interactions that underpin even simple physiological processes.
Why did you choose CWRU?
I chose CWRU for a few reasons. The most obvious benefits were the merit scholarship and AP credit I was afforded, which have given me a lot of flexibility in my coursework while limiting costs and debt. I also valued the plethora of research and shadowing opportunities available due to CWRU's association with top hospitals. Additionally, I'm very close with my family and staying nearby was definitely a perk.
What do you like best about CWRU?
Similar to why I chose CWRU, I've really enjoyed the opportunity to dive into advanced coursework and explore my interests. Even for students who have less AP credit, the abundance of research opportunities makes it easy to get in-depth exposure early in your college career – especially if they're related to medicine. I've found it very rewarding to take advantage of those opportunities.
Describe any research projects, study abroad, internship or other unique experiences and opportunities you have had as a result of being a CWRU student.
I've been involved in two different research opportunities. I spent a couple years as part of the Emergency Medical Research Division at University Hospitals, which conducted clinical research – primarily surveys – in the ER under the supervision of attendings and residents. I've also been working in a laboratory in the Pathology Department for the past three years researching prion transmission and gene therapy. Both experiences have been extremely valuable, teaching me about the process of research, how to critically interpret scientific literature, and important techniques for both clinical and basic science research.
What extracurricular activities are you involved in?
Beyond my previous membership in the Emergency Medical Research Division, I am also a member of Red Cross Club.
What are some of your interests and hobbies?
I really enjoy cooking, baking, and RPG tabletop games. I am also the Assistant Coach for the Solon High School Science Olympiad team.
What do you consider to be your biggest accomplishment so far?
I served as an event coach for the Solon Middle School Science Olympiad team and coached a pair of students to a first place award at the national tournament, which in turn enabled our team to take first overall as well. I'm immensely proud of my students and their hard work.
Where do you see yourself in five years?
I see myself as a medical student or first-year resident.