The Emerging Scholars Program
Fall 2020 ESP Student Spotlight - Jeremiah Ukwela
Jeremiah Ukwela, a second-year biomedical engineering major, was the recipient of a summer grant from SOURCE (Support of Undergraduate Research and Creative Endeavors). This award funded his participation in a research initiative with the Louis Stokes Cleveland VA Medical Center's Advanced Platform Technology Center. The goal of the initiative, which is titled "Footplate Pressure and Positioning Sensor System," is to assist power wheelchair users with spinal cord injuries in preventing further injuries. 
Case studies over the years have found that a misplaced foot on a wheelchair footplate can lead to inadvertent injuries such as fractures and broken bones, resulting in hospitalization or even amputation. Jeremiah's two main tasks were to program the firmware and associated mobile application and to create and update documentation of the project. During the fall semester, Jeremiah's focus has shifted to creating a framework and algorithm that can accurately describe the placement of a wheelchair user's foot and its state. 
ESP Student Spotlight – Akwasi Duah
Emerging Scholar Akwasi Duah is a third-year civil engineering major with a concentration in structural engineering. In summer 2019, Akwasi had a field engineering co-op with Turner Construction at the MetroHealth Campus Transformation Project. This was his second co-op with Turner. Prior to working with Turner, Akwasi completed internships in construction management with Donley's Inc and Whiting Turner.
In his own words: "For me, ESP wasn't just a summer program, it was my first experience at building friendships and ultimately a community at Case Western Reserve. Maintaining these friendships over the years has really made CWRU feel like home for me."
ESP Student Spotlight - Aliah Lawson Receives Scholarship
Aliah Lawson is a third-year student double majoring in psychology and political science. She has been awarded the Peter Witt Scholarship through the College of Arts and Sciences. Aliah plans to attend law school after completing her undergraduate studies. In summer 2019, she interned at the Cuyahoga County Juvenile Court under Judge Alison Floyd.
In her own words: "I feel ESP has definitely put me at an advantage with my studies here at Case Western Reserve. I met many people who have been very helpful in my academic journey and was given a chance to figure out how to handle the stress that comes with being at this school before it really started. I am truly grateful because I could be in a very different position without it."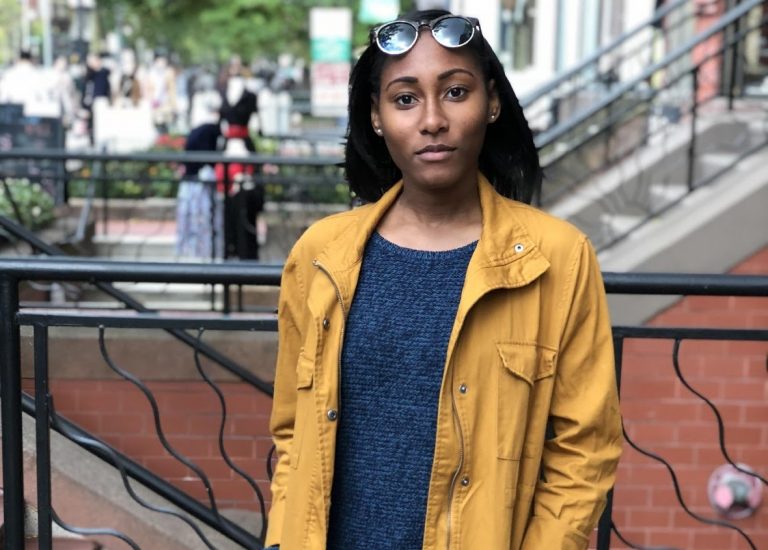 Fall 2020 ESP Alumni Spotlight - Kiyla Cooper
Kiyla Cooper (CWR'20) graduated from CWRU with a bachelor's degree in accounting and is currently pursuing a master's degree in accounting at the University of Auckland in New Zealand via distance learning. Prior to starting her master's degree, she had the opportunity to study abroad at the University of Auckland in 2019 and took classes in drama, biology, accounting and finance and participated in a number of activities outside the classroom.
She is a recipient of the Michael E. Fisher Scholarship, which is endowed by CWRU's African American Alumni Association. The scholarship honors the university's first black admissions officer, who was an influential advocate for the increased admission and retention of African American students at CWRU.
ESP Alum Continues Academic Career at The Ohio State University
(The following was taken from the article "The Success Equation," summer 2019 Art/Sci website)
Kristina Bowdrie (CWR '17), now a graduate student in audiology at The Ohio State University, says that ESP gave her confidence and a sense of belonging when she came to CWRU from Euclid High School in 2013. During that first summer, Bowdrie recalls, she and her fellow ESP students were together five days a week. "We had no choice but to get to know each other," she says. "And that put us in a position to feel comfortable trusting each other. We had people to work through assignments with, and to decompress and have a good time with."
Bowdrie went on to earn degrees in psychology and communication sciences, and now she is one-third of the way through a challenging doctoral program. This past March, she received an award from the American Academy of Audiology for excellence in student research.
"ESP helped me develop everything I needed to be successful at Case Western Reserve, and after," Bowdrie says. "It's been so valuable to me."
ESP Alumni Spotlight – Briana Sealey
Emerging Scholar alum Briana Sealey (CWR '17) completed a master's degree in ecology and evolutionary biology at the University of Michigan this spring and began her doctoral studies in the Department of Integrative Biology at the University of Texas at Austin this fall. Briana majored in biology at CWRU and conducted research with Associate Professor Michael Benard. In spring of 2019, she was one of a select few to win a prestigious Graduate Research Fellowship through the National Science Foundation.
"I attribute my success in winning this award to the amazing mentors I've had throughout my academic career," Sealey says, "There was potential they saw in me that I have now recognized. I hope to inspire other young scientists in the future just as they have done for me." 
2020 ESP Alumni Spotlight - Brittany Raab
Brittany Raab (CWR '20, SAS '20) was honored with the Dean's Award for Outstanding Student Achievement during the virtual commencement for the Jack, Joseph and Morton Mandel School of Applied Social Sciences on May 17. That day, she received both a bachelor's degree in sociology and a master's degree in social service administration.
In addition to participating in the Emerging Scholars Program as an undergraduate, Brittany served as a peer mentor to entering ESP students during the past two summers. In this role, she provided advice and support as the students made their transition from high school to college.
Brittany was featured in the university's daily newsletter as one of eight outstanding 2020 graduates.
Please click here to read Brittany's feature in The Daily.
In the News
The Emerging Scholars Program, under the leadership of director Steve Haynesworth and coordinator Arthur Evenchik, was featured in the 2019 Spring/Summer Edition of art|sci magazine.