Living life thoughtfully simply takes work. The courage is in that work.  There is no perfection for the living and the breathing.  There are, however, moments of realization that the will to get things right works.  Then, the room of our lives opens, and we feel at home. We become relaxed with a purpose that is homely, life-sized, good.  Don't give up on getting your life right.
~
The Beamer-Schneider Professorship was created to develop undergraduate character and judgment. Elmer G. Beamer was the accountant for Kent Hale Smith, and Hubert H. Schneider was Smith's lawyer. At a time when there was a lot of corruption in Cleveland, both men were known for their integrity.  The professorship focuses on ethics (the pursuit of flourishing), morality (upholding what we owe to each other), and civics (being an engaged and responsible member of society, including being socially just).
Here is its proposal for Case Western Reserve University's future, looking back over 9-years of the Professorship's programs.
Wilkinsburg, PA -the dynamics of de facto segregation, urban poverty, and gentrification
Overview of the function of the Beamer-Schneider Professorship
The Beamer-Schneider Professorship was designed with one aim:  Create universal undergraduate moral education and ethical learning at Case Western Reserve University.
However, the university is decentralized, STEM and pre-professionally oriented, and being reshaped by neoliberal rationality.
In fact, no ethics or moral thought professor of any kind, from any school, was included in any of the many working groups of the recent revision of the general education for undergraduates.  This was not malevolence but a result of the new form of rationality structuring higher education.  It was an oversight that captures in its space thoughtful faculty, staff and students.
So what should the professorship do?  Part of being pragmatic is asking the tough question:  Is this institution headed in the right direction?  Is it functioning well?
Can we acknowledge that no life sits right, no judgments make good sense when we lack a grasp of the good and the right -when we aren't accountable or prudent?  Why would education abandon these things?  Why would it make becoming a good person harder?
Undergraduate Moral Education Advisory Committee of the Beamer-Schneider Professorship
Betsy Banks, Director, Center for Civic Engagement and Learning
Susan Case, Associate Professor, Department of Organizational Behavior, Weatherhead School of Management
Eric Chilton, Lecturer, SAGES and the Department of English
Barbara Daly,  Gertrude Perkins Olivia Professor in Oncology Nursing, Frances Bolton School of Nursing and Clinical Ethics Director, University Hospitals of Cleveland
Matthew Garrett, Interim Director, UCITE and Associate Professor, Department of Music
Sarah Gridley, Associate Professor of English
Michael Householder, Associate Director, SAGES, and Assistant Dean, College of Arts and Sciences
Tony Jack, Associate Professor of Philosophy and Research Director, Inamori Center for Ethics and Excellence
Amie Jackson, Associate Director, Office of Greek Life
Marin Exler, B.A. candidate in Political Science and Spanish, Class of 2020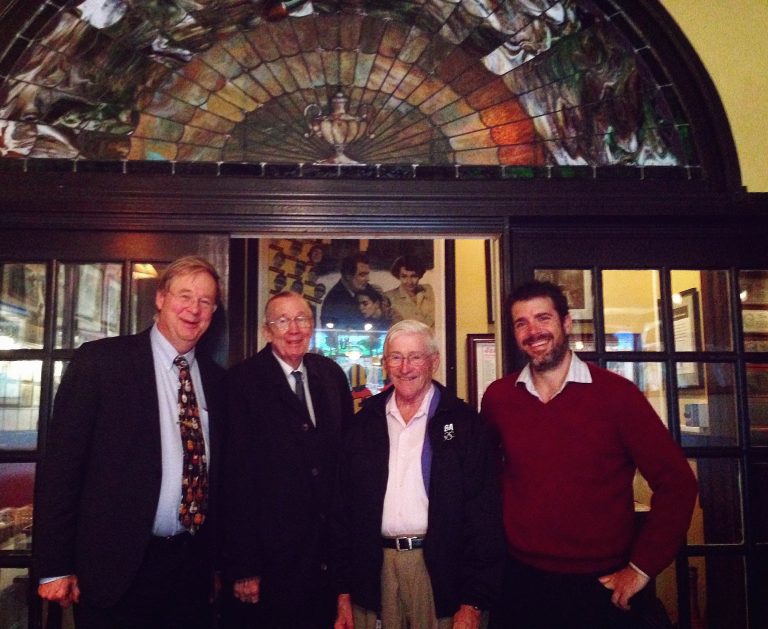 Cyrus Taylor, Dean of the College of Arts and Sciences, with Phil Ranney and Bill LaPlace of the Kent Smith Charitable Foundation, which funded this professorship, and Jeremy Bendik-Keymer, Beamer-Schneider Professor (2010 – ); four white guys
Home of some books used in the Beamer-Schneider Professorship
Peter Knox, Director, Baker Nord Center for the Humanities and Eric and Jane Nord Professor, Department of Classics
Daniel Lacks, C. Benson Branch Professor of Chemical Engineering and Chair, Department of Chemical and Biomolecular Engineering
Michael Mason, Associate Dean of Undergraduate Studies for First Year Students
Marilyn Sanders Mobley, Vice-president, Office of Inclusion, Diversity and Equal Opportunity and Professor, Department of English
Leo Ndaiye, B.A. candidate in Environmental and International Studies, Class of 2020
Lisa Nielson, Director, Flora Stone Mather Center for Women
Drew Poppleton, Associate Director for Employee Relations, Career Services Center
Suzanne Rivera, Vice President for Research and Assistant Professor in the Department of Bioethics
Links
A Space for Spiral Learning:  a report from 9 years of the Professorship in time for strategic planning, 2018
Staying on Track with our Mission, 2018
Statement on the Academic Integrity Board and Policy at CWRU, 2018
CWRU Mission + Values / CWRU Strategic Plan
We Are All Explorers: Learning & Teaching with Reggio Principles in Urban Settings, 2008
Not for Profit: Why Democracy Needs the Humanities, 2011
The Roles for Indigenous Peoples in Anthropocene Dialogues, 2016
From Violence to Violation (in Cleveland), 2018
Social practice art is not simply pleasant, and it is not simply fun.  It is not a warm fuzzy.  It's gustier than that (like wind) and implies risk and the provocation to astonishment and hard thinking about, even rethinking of, the normative arrangement of life.
Is our education, including its terms and conditions, morally acceptable?