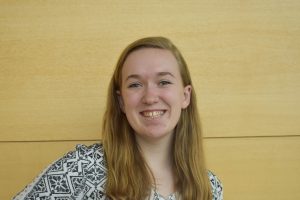 Where are you from?
Apex, North Carolina
What are your majors?
Physics and Math
What is your minor?
Astronomy
Why did you choose to study this/these subject(s)?
From as early as I can remember, I've always had an affinity for math and science, driven by my curiosity for the world around us. When I came to CWRU, it was my introductory physics classes that inspired me to continue with physics, in addition to math. I've also always been fascinated by space and thought an astronomy minor would be the perfect way to learn more about the cosmos. However, that minor soon became a second major when I began taking astronomy classes, as I realized I want to spend my life putting my math and physics knowledge to use to understand the universe.
What is your favorite class and/or faculty member, and why?
I've taken a number of excellent classes, but one class in particular comes to mind. During my junior year, I took a course titled Astronomical Techniques taught by Dr. Chris Mihos. The course introduced us to observational astronomy, including how telescopes and detectors work, and also tasked us with assignments like writing journal articles and various proposals. These are tasks performed by astronomers on a daily basis, so we got a hands on idea of what it would be like to pursue a career in astronomy research. The course not only got me interested in observational astronomy, but also helped me grow as a scientist and realize that I would enjoy being a professional astronomer.
Why did you choose CWRU?
Going into college, I was unsure of exactly what I wanted to study. I knew I wanted a strong STEM school and to play Division III soccer. CWRU provided both of these, in addition to an excellent breadth of fields of study that ultimately allowed me to find my passion.
What do you like best about CWRU?
My favorite part of CWRU is the people. Through my four years here, I have made friends that I know will last a lifetime, and I've learned from all of the truly incredible people I've met. From my peers to my professors, these people have inspired me and helped me grow into the scientist and person I am today.
Describe any research projects, study abroad, internship or other unique experiences and opportunities you have had as a result of being a CWRU student.
As a rising senior, I spent the summer at the Center for Astrophysics | Harvard & Smithsonian doing observational astronomy research. I was tasked with analyzing Chandra X-ray data from a merging galaxy cluster to understand the physical properties of the cluster and model the merger. I really enjoyed the experience, and it helped confirm my desire to be involved in astronomy research as a career and also shaped my interests for future research.
What extracurricular activities are you involved in?
At CWRU, I'm a member of the varsity women's soccer team. I played during my first 3 years here and was a student coach during my final year due to injuries. In addition to soccer, I'm also the crew captain of the CWRU Love Your Melon Crew, which supports the fight against pediatric cancer.
What are some of your interests and hobbies?
I watch a lot of women's soccer. I'm a big fan of the NWSL (National Women's Soccer League) here in the US, and I'm also really looking forward to watching the Women's World Cup this summer. Outside of soccer, I enjoy spending time with my friends and traveling. Additionally, when I'm home I'm also involved in science outreach at the North Carolina Museum of Natural Sciences, where I run solar observing sessions and teach mini lessons on dark matter.
What do you consider to be your biggest accomplishment so far?
I am honored and excited to have been awarded a Gates Cambridge Scholarship to do a Master's in Astrophysics at the University of Cambridge next year.
Where do you see yourself in 5 years?
In 5 years, I see myself finishing up a PhD in Astronomy. Ultimately, I hope to become a professor of astronomy, where I can combine my passions for astronomy research and teaching.