This fall, eight alumni of the College of Arts and Sciences and its predecessor institutions will be honored for their exceptional contributions to their fields and to the lives of others. The awards presentation will take place during Homecoming and Reunion Weekend, Oct. 10–13, 2019.
Distinguished Undergraduate Alumni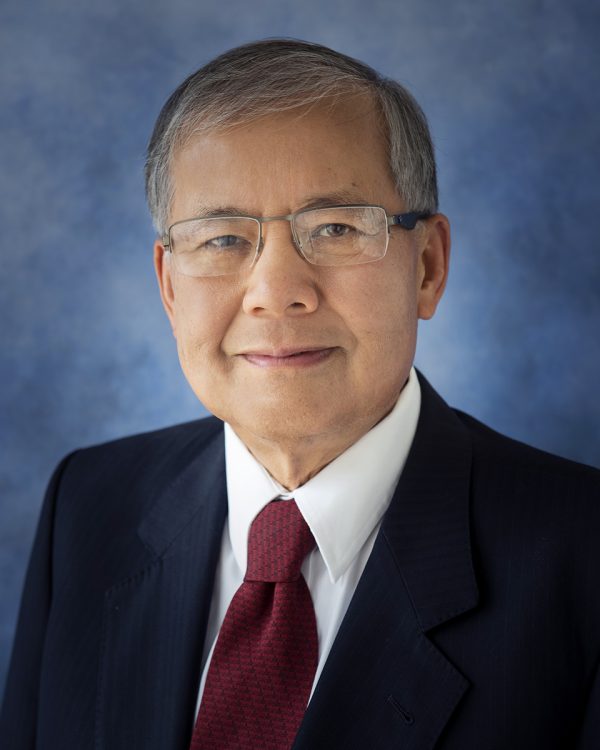 Cung Khac Vu (ADL '69) enjoyed a 37-year career in the energy industry, overseeing diverse aspects of exploration and production as well as business operations for Royal Dutch Shell, Union Oil Company of California (Unocol) and Chevron until his retirement in 2014. His technical positions included director of research and development in geosciences and reservoir engineering, exploration manager and chief geophysicist. He is the author or co-author of more than 20 patents and pending patent applications and numerous scientific articles.
Vu majored in mathematics and physics at Adelbert College and went on to earn a doctorate in physics at the University of Pennsylvania. He is active in the Houston chapter of CWRU's Alumni Association and serves on the advisory board of the Great Lakes Energy Institute at the Case School of Engineering.
Mariam C. Noland (FSM '69) leads the Community Foundation for Southeast Michigan, a Detroit-based philanthropy that has awarded more than $1 billion in grants to nonprofit organizations in a seven-county area since she became its first president in 1985. The foundation supports initiatives in education, arts and culture, health and human services, community development and civic affairs.
Noland earned a bachelor of science degree in nutrition from Flora Stone Mather College, followed by a master of education degree from Harvard University. Before joining the Community Foundation, she served as vice president of the St. Paul Foundation in Minnesota and as a program officer and secretary-treasurer at the Cleveland Foundation. An influential figure in Michigan's philanthropic community, Noland played a critical role in mobilizing a consortium of foundations that helped rescue Detroit from bankruptcy in 2015. She has held leadership positions on the boards of the Council of Michigan Foundations, the Council on Foundations, the Independent Sector and the Henry Ford Health System.
Distinguished Graduate Alumnae
Joie A. Gregor (GRS '74) has held top-level management and leadership positions with Warburg Pincus, a global private equity investment firm; Heidrick & Struggles, an international executive search firm; and IBM. In addition, she served in 2007–08 as the Assistant to the President for Presidential Personnel in the George W. Bush administration. Currently, she draws on her background in strategy, finance and governance as a director of two public corporations: ConAgra Brands, a packaged foods company, and Conduent, a technology company providing digital platforms for business and government.
After completing a master of arts degree in anthropology at Case Western Reserve, Gregor earned a master of science in management at Stanford University, where she was the first woman to be named an IBM Sloan Fellow. As a CWRU trustee from 2002 to 2018, Gregor served terms as vice chair of the board and chair of the compensation committee, and she was active in board recruitment.
Kathryn Karipides (GRS '59), a Samuel B. and Virginia C. Knight Professor Emerita of Humanities at Case Western Reserve, has been called "the godmother and guiding spirit of dance in Cleveland" (Ohio Northern Live magazine). While earning her master's degree in physical education from the university, Karipides trained with major figures in modern dance, including Hanya Holm, Martha Graham and Erick Hawkins. By the 1970s, she was building a national reputation as a dancer, choreographer and teacher while spearheading the creation of CWRU's undergraduate and graduate programs in dance. Her contributions to the university also extended beyond the performing arts; she chaired a 1991 commission on the status of women at CWRU and was a strong advocate for establishing the Flora Stone Mather Center for Women.
Karipides retired from the faculty in 1998 but returned to campus to serve as associate provost from 2003 to 2008. Her previous honors include a Carl F. Wittke Award for Excellence in Undergraduate Teaching (1972) and a Cleveland Arts Prize (1974).
Distinguished Service Alumni
Dennis A. Block (ADL '69), until his retirement in 2010, was the global chairman and chief financial officer of dmrKynetec, a St. Louis-based company now known as Kynetec, which conducts market research around the world for the agri-business industry.
Block, a CPA, holds bachelor's and master's degrees in accounting, the first from Adelbert College and the second from the University of Missouri–Columbia. He has served as a board member for the Master of Marketing Research program at Southern Illinois University–Edwardsville; treasurer for the Council of American Survey Research Organizations; and president of the Shaker Heights Youth Center. He has also mentored young people in Cleveland through the Rotsky Foundation and Youth Opportunities Unlimited. At CWRU, Block has served on numerous committees and helped raise funds for projects such as the Linsalata Alumni Center and the Wyant Athletic and Wellness Center. He is currently a member of the President's Visiting Committee and the visiting committees for the College of Arts and Sciences and the Department of Physical Education and Athletics. In addition, he is actively engaged with his fraternity brothers from Beta Theta Pi and is the Homecoming and Reunion representative for the Class of 1969.
Judy Strauss-Schwartz (WRC '74) is a teacher of blind and visually impaired children and a consultant to schools and other institutions working with this population. As an orientation and mobility specialist, she helps children with vision loss and other disabilities navigate their surroundings, and she has shared her expertise in articles, book chapters and speeches at state and national conferences. Among other roles and affiliations, Strauss-Schwartz has been a service coordinator and curriculum developer at the New York Institute for Special Education and an adjunct instructor in the graduate programs at Teachers College (Columbia University) and Dominican College. In 2013, she received the Nat Seaman Award from the New York State Association for the Education and Rehabilitation of the Blind and Visually Impaired.
An American Studies major at Western Reserve College, Strauss-Schwartz went on to earn a master of education degree from Boston College. She is a former president and long-standing board member of CWRU's New York Alumni Association, which presented her with its Adrian Freeman Award in 2003. She has also served on the board of CWRU's national Alumni Association and the Visiting Committee for the College of Arts and Sciences.
Distinguished Young Alumni
Esther Erb Atkins (CWR '08), who got her start as a competitive runner at Case Western Reserve, won the U.S. Marathon Championship in 2014. She took part in the 2015 World Championships in Athletics and has qualified for three Olympic marathon trials, placing 11th in 2016. In college, Atkins was a six-time All American, a two-time Academic All American and the 2008 national champion in the NCAA Division III Outdoor 10,000-meter event.
After earning bachelor's degrees in cognitive science and music, Atkins spent two years in Austria as a Fulbright English Teaching Assistant, taking the opportunity to sing with the renowned Arnold Schoenberg Choir. A former assistant cross country and distance coach at Rider University, she now provides day-by-day workouts and guidance to more than 40 private clients around the world through a coaching collaborative called McKirdy Trained, using online tools and smartphone apps.
John Knific (CWR '09) is the co-founder, president and chief operating officer of Wisr, a developer of online platforms that connect college students with alumni who offer them career advice and help them find jobs after they graduate. Launched in 2016, Wisr partnered with CWRU to co-develop its technology, which powers the university's Alumni Career Network. Since launch, Wisr has grown to service dozens of high-profile institutions across the country and was awarded the 2017 Venture Innovation Award by Arizona State University, competing with more than 250 global education technology companies.
Knific, who majored in biology while studying music (he is a jazz pianist), began his entrepreneurial career as an undergraduate when he and two classmates, Marc Plotkin (CWR '09) and Eric Neuman (CWR '09), founded a tech startup to manage video auditions for artists and musicians. That firm evolved into DecisionDesk, a web-based admissions management system for higher education. From 2008 to 2016, with Knific as its CEO, DecisionDesk raised $6 million in seed capital and attracted a clientele of more than 100 universities. Passionate about supporting collegiate entrepreneurs, Knific regularly works with teams at the Weatherhead School of Management and the Larry Sears and Sally Zlotnick Sears think[box] in the Richey-Mixon Building.
Photo credits: Cung Khac Vu by Christine Sheeren/Natural Expression Studio. Mariam Noland courtesy of the Community Foundation for Southeast Michigan. Joie Gregor courtesy of Conduent. Kathryn Karipides and Dennis Block by Mike Sands. Judy Strauss-Schwartz by Shirley Singer Photography. Esther Erb Atkins by Kate Dodds. John Knific by Thomas Sawyer/Wisr.
To nominate graduates of the college or its predecessor institutions for the 2020 Alumni Awards, please contact Sharon Jordan-Davis, the college's executive director of constituent relations, at sharon.jordan-davis@cwru.edu. The deadline for nominations is Nov. 30, 2019.
The Mellon Foundation renews support for the Cleveland Humanities Collaborative
In the fall of 2016, Christopher Cannon (CWR '19) was a humanities student at Cuyahoga Community College (Tri-C) who performed his own poetry outside the classroom. He planned to attend a local university once he received his associate of arts degree the following spring, but it hadn't occurred to him to apply to Case Western Reserve. "I just never would have thought I could get into a school like that," he says.
That fall, however, one of his history professors, Christopher Kinsella, told Cannon about the Cleveland Humanities Collaborative (CHC), which offers Tri-C students a pathway to Case Western Reserve. Cannon signed up, and in Fall 2017 he enrolled full-time at CWRU, pursuing majors in English and history and a minor in Spanish. For a summer research project last year, he traveled to Cuba to study indigenous folklore and its influence on postcolonial literature. In a poetry workshop, he crafted a significant portion of what he hopes will become his first book. And shortly before he received his bachelor's degree this May, he accepted admission to the doctoral program in Hispanic Languages and Literatures at the University of Pittsburgh.
Cannon is one of the first students to benefit from CHC, an innovative partnership between a private research university and a community college. The program was launched in 2015 with a $1.55 million grant from The Andrew W. Mellon Foundation, which had just begun supporting the creation of such initiatives by select institutions around the country. Now, encouraged by CHC's activities and results, the foundation has approved a $2 million grant renewal, shared by CWRU and Tri-C, that will sustain and expand the collaborative through June 2023.
Several factors make CHC's mission timely and compelling, says program director Kurt Koenigsberger, associate dean in CWRU's College of Arts and Sciences and associate professor in the Department of English.
While humanities enrollments at four-year colleges and universities have declined in recent decades, community colleges have seen a steady increase in the numbers of students majoring in traditional humanities disciplines or liberal studies. Unfortunately, only a small percentage of community college graduates, including those in the humanities, go on to earn bachelor's degrees, and their transfer rates to research universities are especially low. This is a lost opportunity for the students, who miss the academic experiences, lifelong learning and career pathways associated with attending a research university. And it's a loss to the universities themselves, which have overlooked a student population that would gravitate toward humanities courses, expand the pool of potential humanities scholars and teachers, and contribute to these institutions' racial, socioeconomic and experiential diversity.
Thus far, with guidance from program manager Allison Morgan (GRS '11), 16 CHC students have transferred to CWRU after earning degrees at Tri-C. Five of these students have now graduated from the university. In addition to Cannon, this group includes Sharmayne Schaffer (CWR '18), who majored in sociology and women's and gender studies; Isabelle Betyak (CWR '18), a psychology major with a minor in women's and gender studies; Ryan Ross (CWR '19), a philosophy major; and Andrew Gliebe (CWR '19), a history major.
In addition, 25 CHC students still enrolled at Tri-C have taken courses at CWRU, earning credits toward their degrees from both schools. In the process, they have forged connections with potential faculty mentors and learned to navigate an unfamiliar academic environment.
The development of CHC has involved administrators, faculty members and student support professionals from Tri-C and CWRU. Along the way, they have modified the program's design in response to students' needs. During its third year, for example, CHC enhanced the support provided to Tri-C students working on their transfer applications to CWRU. Starting this fall, CHC students enrolled at Case Western Reserve will take a series of one-credit courses in which they reflect on their academic and career trajectories and envision new ways to bring the humanities to Cleveland residents.
CHC has also fostered partnerships to promote humanities teaching and scholarship. Each summer, for instance, it hosts a weeklong seminar in which faculty members from several local colleges and universities discuss the latest winners of the Anisfield-Wolf Book Awards, a Cleveland Foundation program honoring writers who address racism and diversity. During the grant renewal period, CHC will create a course on teaching and learning in the community college setting for CWRU graduate students in the humanities and the humanistic social sciences (psychology, sociology and political science). These students will also be eligible for fellowships that enable them to gain teaching experience by working closely with Tri-C faculty members.
Each fall for the next four years, CHC intends to facilitate the transfer of 12 Tri-C students to Case Western Reserve. In addition, the Mellon Foundation grant will support pilot programs with two other local institutions, Lakeland Community College and Lorain County Community College, with the goal of yielding another eight transfer students during the renewal period. Ultimately, CHC hopes to expand into a regional consortium open to faculty members, graduate students and undergraduates across Northeast Ohio.
Five young alumni receive prestigious NSF fellowships
The National Science Foundation (NSF) has awarded 2019 Graduate Research Fellowships to five alumni of the College of Arts and Sciences. These awards are conferred on outstanding graduate students in NSF-supported science, technology, engineering and mathematics disciplines. Less than 5% of applicants are offered the fellowships each year.
Raymond Adkins (CWR '18, GRS '18) just completed his first year in the Department of Physics at the University of California, Santa Barbara. He earned a bachelor's and a master's degree in physics from Case Western Reserve. Adkins says that his current research, which focuses on active liquid crystals, is a natural extension of work he did at CWRU with Professor Charles Rosenblatt, the Ohio Eminent Scholar in Condensed Matter Physics.
Kieran Farrell (CWR '18) will begin his second year in the Department of Chemistry at the University of Wisconsin-Madison this fall. As a chemistry major at CWRU, he did research with Associate Professor Carlos Crespo-Hernández, who applies advanced techniques in spectroscopy to investigate chemical reactions. Now, Farrell is using two-dimensional infrared spectroscopy to study protein aggregation.
"Many research groups at Case Western Reserve, including the Crespo group, provide undergraduates with the unique opportunity to make meaningful contributions to relevant research," Farrell says. "Furthermore, undergraduates who get involved with research here often get to know professors very well. I personally feel that these aspects of undergraduate research at CWRU played a huge role in my winning this award."
Briana Sealey (CWR '17) completed a master's degree in ecology and evolutionary biology at the University of Michigan this spring and will begin her doctoral studies in the Department of Integrative Biology at the University of Texas at Austin in the fall. Sealey majored in biology at CWRU and conducted research with Associate Professor Michael Benard. In addition, she participated in the college's Emerging Scholars Program.
"I attribute my success in winning this award to the amazing mentors I've had throughout my academic career," Sealey says, "There was potential they saw in me that I have now recognized. I hope to inspire other young scientists in the future just as they have done for me."
Sealey's master's thesis focused on evaluating anti-predator behavior of coral snake mimics in tropical rain forests. For her PhD, she will begin work on a predator-prey dynamic where fringed-lipped/frog-eating bats (Trachops cirrhosus) eavesdrop on male túngara frog (Physalaemus pustulosus) calls in order to capture them (i.e., male frogs call to female frogs and the bats can hear the frequency of the calls and can therefore swoop down to catch and eat them!). Sealey is interested in determining how bats respond to calling frogs when their own predators are nearby.
Noemie Sierra (CWR '15) has completed her second year in the graduate program in Integrative Genetics and Genomics at the University of California, Davis. Sierra, who earned her bachelor's degree in biology at CWRU, is also a member of the paleogenomics lab group in UC Davis' Department of Earth and Planetary Sciences.
Sierra's research focuses on the evolution of tissue regeneration strategies and aging in Cnidaria, a phylum that includes jellyfish and corals. Her passion for the subject, she says, was inspired by a course on the evolution of invertebrates taught by Professor Peter McCall in the Department of Earth, Environmental and Planetary Sciences. Sierra later did an independent research course with Richard Drushel, senior instructor in the Department of Biology, and she participated in an evolutionary biology-focused program in the Galapagos Islands, where she was introduced to some of the techniques she uses in her research now.
During her senior year at CWRU, Sierra joined the lab of Mark Willis, professor and chair in the Department of Biology, where she investigated the mechanics of motion (kinematics) of hind wing flight in a species of moth, Manduca sexta. "I wanted to gain some research experience," she says, "and Dr. Willis was a great mentor and helped me understand the process required to get into graduate school."
Catherine Taylor (CWR '16) will begin her third year in the Department of Integrative Biology at the University of California, Berkeley, this fall. "My focus of study is in paleoanthropology—I'm interested in understanding modern human morphology by studying our extinct hominid relatives and the environments that they lived in," Taylor says. While majoring in anthropology and evolutionary biology at Case Western Reserve, she conducted fieldwork in Tanzania and Ethiopia, working with Yohannes Haile-Selassie, curator and head of physical anthropology at the Cleveland Museum of Natural History and an adjunct professor at CWRU.
art/sci, etc.
Peter Knox, the Eric and Jane Nord Family Professor in the Department of Classics and director of the Baker-Nord Center for the Humanities, has produced the first English translation of the Greek and Latin poetry of the 15th-century Florentine humanist Angelo Poliziano. The volume is part of Harvard University Press' I Tatti Renaissance Library.
Susan McClary, the Fynette H. Kulas Professor of Music, is the author of The Passions of Peter Sellars: Staging the Music, a critical study of a major contemporary theater and opera director.
Beverly Saylor, professor in the Department of Earth, Environmental and Planetary Sciences, has been named the Armington Professor for 2019–21.
Daniel Scherson, the Frank Hovorka Professor of Chemistry and director of the Ernest B. Yeager Center for Electrochemical Sciences, is the recipient of the 2019 Edward W. Morley Award, presented by the Cleveland Section of the American Chemical Society.
Yasuhiro Shirai, the Eirik Børve Professor in Modern Languages, is the author of Connectionism and Second Language Acquisition.
Ben Vinson III, university provost and executive vice president and the Hiram C. Haydn Professor of History, received the 2019 Howard F. Cline Book Prize in Mexican History from the Latin American Studies Association for Before Mestizaje: The Frontiers of Race and Caste in Colonial Mexico.
Jeremy Bendik-Keymer, the Elmer G. Beamer–Hubert H. Schneider Professor in Ethics and associate professor in the Department of Philosophy, is the author of The Wind: An Unruly Living.
Justin Buchler, associate professor in the Department of Political Science, is the author of Incremental Polarization: A Unified Spatial Theory of Legislative Elections, Parties and Roll Call Voting.
Jay Howard Geller, the Samuel Rosenthal Professor of Judaic Studies and associate professor in the Department of History, is the author of The Scholems: A Story of the German-Jewish Bourgeoisie from Emancipation to Destruction.
Paul Iversen, associate professor and chair of the Department of Classics, has received a grant from the National Endowment for the Humanities to study the Antikythera Mechanism, an ancient timekeeping device whose significance in Greek history and religion he will explore.
Julie Andrijeski (GRS '06), senior instructor in the Department of Music, is a featured violinist on Songs of Orpheus, a recording by tenor Karim Sulayman and the Baroque orchestra Apollo's Fire. The disc won the 2019 Grammy Award for Best Classical Solo Vocal Album.
Lisa Damour, clinical instructor in the Department of Psychological Sciences and senior advisor to the Schubert Center for Child Studies, is the author of Under Pressure: Confronting the Epidemic of Stress and Anxiety in Girls.
Scott Dill, lecturer in the Department of English, is the author of A Theology of Sense: John Updike, Embodiment, and Late Twentieth-Century American Literature.
Jutta Ittner, associate professor in the Department of Modern Languages and Literatures, is the executive producer of Living the Classical Life, a series of filmed interviews with more than 60 illustrious classical musicians. Hosted by Zsolt Bognár and directed by Peter Hobbs and Elizabeth Foley, the series received a 2018 Classical Post award as the Most Innovative Presenter in the media category. All of the episodes are available at Livingtheclassicallife.com and on YouTube.

Ittner first met Bognár, a pianist and writer, during the 2000s, while he was earning degrees in performance at the Cleveland Institute of Music (CIM). He was one of many CIM students taking language courses—including Ittner's German courses—at the university through the Joint Music Program. Ittner calls Bognár "one of the young musicians whose passion and sacrifice moved me and whose determination and courage I deeply admired." These same qualities, she says, are displayed by the concert artists in the series, who also "reveal the anxieties and uncertainties they suffer from but hardly ever speak about."

To encourage young musicians and support their mental and physical health, Ittner and her collaborators are developing a new project, Students Living the Classical Life. The participants, first-year students at CIM and the conservatories at Baldwin-Wallace University and Oberlin College, provide feedback on selected clips from the series, addressing such topics as self-motivation, self-doubt, performance anxiety and healthy practice routines.
Alumni Notes
William Harper (ADL '66; GRS '67), who earned a master's degree in art education through a joint program of CWRU and the Cleveland Institute of Art (CIA), is a craftsman and artist whose works include fine jewelry, paintings and Japanese-style folding books. He is the subject of a retrospective exhibition, The Beautiful & the Grotesque, at CIA, April 4–June 14, 2019.
The Rev. Dr. Maurice Charles (WRC '87) has been named dean of Rockefeller Memorial Chapel at the University of Chicago.
Christopher VanOrman (GRS '92, chemistry) has been appointed provost of Hillsdale College (Michigan), where he holds the William and Bernice Grewcock Chair in Chemistry.
Hiroyuki Fujita (GRS '98, physics), founder, president and CEO of Quality Electrodynamics (QED), has been named Honorary Consul of Japan in Cleveland.
Sarah Doar (CWR '00) has been named legal consultant for the Municipal Research and Services Center in Seattle.
Adele Luta (GRS '04, physics) is a 2019 White House Presidential Innovation Fellow.
Susan Kornatowski (CWR '05, LAW '08), a lawyer and CPA, has joined Rea & Associates as manager of its Cleveland office.
Amanda Rose Martin (CWR '11) has joined the Cleveland office of McDonald Hopkins as an associate in the Data Privacy and Cybersecurity Practice Group in the firm's Litigation Department.
Jeremiah Clapp (GRS '16, acting) appeared last fall in Florida Repertory Theatre's production of Damascus, an "immersive thriller" by playwright Bennett Fisher.
Jeffrey Antoine (CWR '18) has been selected as a 2019 Fulbright English Teaching Assistant. During his two-year placement in Mexico, he will support English teaching in classrooms from the elementary to the university level. Antoine notes that Jacqueline Nanfito, associate professor in the Department of Modern Languages and Literatures, had a great impact on his professional development.
Peter Hargrave (GRS '18, acting) appeared at Cleveland Play House this spring in Tiny Houses, a new comedy by Chelsea Marcantel.
School Abbreviations
ADL       Adelbert College
CWR      Undergraduates, 1989 and after
GRS      School of Graduate Studies
LAW      School of Law
WRC      Western Reserve College
Send us your news
The notes in this section are compiled from news releases, other publications and messages from alumni like you. We want to hear about milestones in your life. Please send your updates, with your graduation year, to artsci@cwru.edu.