No 14. Homer Hartzell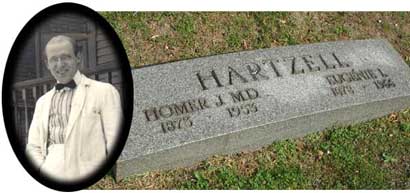 Homer J. Hartzell (1873-1953) served as a staff physician at the contagious disease hospital during the last smallpox epidemic in Cleveland (1902-1903). He left an album of photographs depicting patients and nurses at the hospital. The Dittrick Medical History Center has this album in its collections.
Dr. Hartzell earned his B.A. at Ohio Wesleyan University and his M.D. at the Cleveland College of Physicians and Surgeons (1902). Later he did graduate work at Harvard in eye diseases and ophthalmology became his specialty. He taught ophthalmology at Western Reserve University (1919-1935), he also acted as consultant to the Cleveland Board of Education on eye diseases. Dr. Hartzell's son Homer C. Hartzell became a radiologist, and his daughter, Mary E. Hartzell was the director of social services at Highland View Hospital.
A sampling of Homer Hartzell's photographs can be seen here.
or visit our online exhibit:Smallpox: A City on the Edge of Disaster