Reprinted from the Cleveland Medical Library Association Newsletter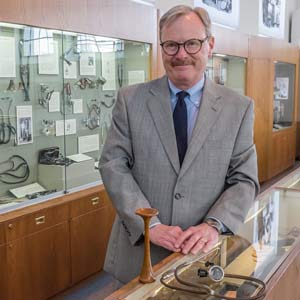 This will be my last CMLA Newsletter, as I will be retiring as Chief Curator effective September 30. It's a bittersweet moment for me, as I have been most fortunate in finding a home at the Dittrick in 1981 (egads!). But I felt that it was time to hand the reins over to a new generation. I like to think that I'm going out on top, having just recently developed a 21st century interactive exhibition, How Medicine Became Modern. I have been helped in that and in all other of our endeavors at the Dittrick by a very devoted staff of Jennifer Nieves and Laura Travis, and until recently Brandy Schillace. In addition to being professionally competent, self-directed individuals, with plenty of initiative, creativity, and capacity for hard work, they are all genuinely wonderful people and have made being head of the Dittrick rewarding and gratifying. And the CMLA Board of Trustees, both collectively and as individuals, has been enormously generous and supportive of the Dittrick, for which I am forever grateful. Their largesse has made possible hugely important renovations and acquisitions, and facilitated staff development and travel far beyond the capacity of a "small" museum. During my tenure I have also met some amazing individuals who share a passion for exploring the medical past, and particularly enjoyed cultivating our international connections in the medical museum community. Colleagues from museums across the world have become sincere friends, as have several of the amazing collectors of medical antiques. Of the latter, I have learned as much as I have taught, and it has been an especially enriching side of my career. So while I am retiring, I have some ongoing research projects that will bring me back occasionally, and I may find myself volunteering as a helper to Jenny in particular. And I have been asked by John Grabowski to serve as the editor of medical and public health content for the online Encyclopedia of Cleveland History. Suffice to say, I will continue to enjoy celebrating Cleveland's medical past, and hope to see you at future events and exhibitions.
A Debt of Gratitude
On behalf of the Cleveland Medical Library Association, it is indeed my pleasure and privilege to reflect on the extraordinary journey that Dr. Jim Edmonson has taken the Dittrick Medical History Center and the Allen Memorial Medical Library over the course of his thirty-seven year career here. Doctor James Milton Edmonson received his:
 B.A. in History at the College of Wooster in 1973
 M.A. in History of Technology at the University of Delaware in 1976
Ph.D. in History of Technology and Museum Studies at the University of Delaware in 1981
During the course of his graduate studies he received distinguished academic awards and scholarships including:
 Hagley Fellow, University of Delaware
 Fulbright-Hays Fellow, Paris, France
Wilbur Owen Sypherd Prize for outstanding dissertation in the humanities, University of Delaware
Dr. Edmonson came to the Dittrick in 1981 and has served as its Chief Curator since 1999. He has been responsible for the overall direction, care and preservation of the holdings of the Dittrick Medical History Center, which comprises a rare book collection of more than 70,000 volumes, the Archives, the Dittrick Museum of Medical History with its more than 80,000 artifacts, and the Allen Memorial Medical Library. All things considered the country's largest and finest collection of its kind in America. Also, he is Adjunct Associate Professor in the program of the History of Science, Technology, Medicine, and the Environment, in the Department of History at CWRU.
While at the Dittrick he continued his scholarly endeavors as a Smithsonian Institution Research Fellow at the National Museum of American History, a F.C. Clark Wood Fellow at the College of Physicians in Philadelphia, and Wellcome Museum Fellow at the Science Museum in London. He also received the Best Monograph Award from the Archivists and Librarians in the History of Health Sciences.
Among his many professional activities, Dr. Edmonson served in several key roles at the American Association for the History of Medicine. As Secretaire General of the European Association of Museums of History of Medical Sciences he has been instrumental in that organization's continued existence while elevating the Dittrick onto the world stage of prominent medical museums. Thomas Schnalke, Director of the Berlin Medical History Museum and the EAMHMS president, regards Jim as the world's expert on 19th and early 20th century medical instrumentation, a superb networker, and an early adopter of digitization and social media. Moreover, he has played a critical role in positioning the EAMHMS to transition from a European to an international organization. Over the years, Jim has held no fewer than 15 offices in all manner of local, state and national professional organizations.
A gifted writer, he has authored four books including – Dissection: Photographs of a Rite of Passage of American Medicine, Nineteenth Century Surgical Instruments: A Catalogue of the Gustav Weber Collection at the Howard Dittrick Museum of Medical History, and American Surgical Instruments: An Illustrated History of Their Manufacture and a Directory of Instrument Makers to 1900 that serves as a must-have reference standard to medical museum curators and collectors alike. In addition, he has contributed more than 60 scholarly articles and book chapters to his profession's literature. Jeremy Norman, one of the country's premier antiquarian book dealers and publishers on the history of science, medicine, and technology, commenting on Dr. Edmonson's retirement, said – "He is a superb scholar with a wonderfully courteous and polite way of interacting with people." It is no wonder that Dr. Edmonson has been a go-to resource for many organizations serving as consultant and guest curator at institutions ranging from our country's most prestigious museums to local historical societies and has delivered lectures too numerous to count in the process.
Undoubtedly, his many accomplishments places him shoulder to shoulder with the most eminent and respected curators in the world. By his very nature he is a genuine, articulate and a remarkably open-minded visionary in his own right who is quick to assess and embrace opportunities with contagious enthusiasm. As a result, he attracted world-class collections to the Dittrick including the Percy Skuy Collection on the History of Contraception and The Donald Blaufox Collection of Diagnostic Instruments, among others. Moreover, his interpretation of these collections illuminates them in a relevant manner and the resulting exhibits consistently exceed all expectations. Percy Skuy recalls hearing of Jim's vision for the contraception collection as a "eureka moment" with respect to finding a new home for his collection. Likewise, Donald Blaufox was "impressed by Jim's passion, keen knowledge of the history of medicine, and ability to engage with others." Doctor Blaufox considers The Dittrick Museum to be the "finest museum devoted to instrumentation and the history of medicine in the United States." Also, Jim's guidance the Dittrick obtained coveted NEH funding for our state-of-the-art, interactive exhibition, "How Medicine Became Modern."
On a personal note, I have been the beneficiary of Jim's most excellent mentorship and encouragement for more than 25 years. Accordingly, I've adopted a more scholarly approach to my collecting and have enjoyed opportunities that would otherwise have never come my way.
On behalf of the CMLA please accept our most sincere gratitude for your many contributions on our behalf. We hope that your retirement affords you time to look back on your accomplishments with great admiration and forward with anticipation of new adventures for years to come.
Best regards and well wishes,
Tony Tizzano, M.D.
President – Cleveland Medical Library Association